Andre Glover
​
​​If your notary commission expired during the state of emergency and you did not renew,

 your commission expired when the extension order expired on July 30, 2021

. The time to renew your commission has expired; you must reapply with a new notary application.​
                           Adopted Notary regulations Effective 10/1/2021
​
Click​ here​ to read the full new notary law found under State Government Article, §18–101 to §18–227, Annotated Code of Maryland.
​ ​ ​​ ​
Effective January 1, 2021 the Notary division is going paperless ALL applications, communications, etc. will be electronic. Every notary is responsible to ensure that SOS has a current e-mail, street address, and business phone number on file at all times.
Effective March 1, 2019, the Notary Division will no longer mail renewal reminders to Notaries. Renewal reminders will be sent by email only, to the email address associated with your registration. If you have changed email addresses or would like to change your email address, please be sure to go to the following link to update your profile: https://www.egov.maryland.gov/sos/notary/#/update​.
​​Effective Immediately:* The regulation regarding the mileage fee that a Notary Public may charge when traveling to perform a notarization has been changed. Now, a Notary Public may demand and receive reimbursement at the prevailing rate for mileage established by the Internal Revenue Service for business travel and a fee not to exceed $5 for travel if required for the performance of a notarial act.  The IRS mileage rate for 2021 is 56 cents per mile.
​​Notary Public Online Application and​
Renewal Service Now Available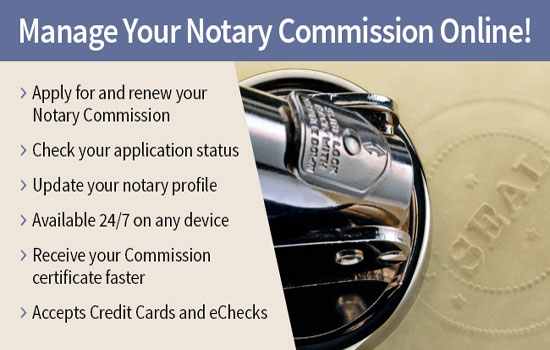 ​
Find the legislative district number & the name of your Senator ! Use the look-up link provided by the Maryland General Assembly
Statutory Authority: State Government Article, §18-101 et seq. of the Annotated Code of Maryland.
​​Charities and Legal Services Division Annual Report for fiscal year ending 6/30/2021​​​
​​​​​​​